"Look and learn, flower, look and learn..."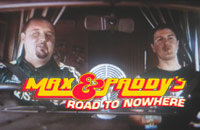 Max & Paddy's Road To Nowhere is Peter Kay's latest series on Channel 4 and it appears that quite a bit of it was filmed in and around the Bolton area, as were his previous series "That Peter Kay Thing" and "Phoenix Nights".
Since I'm originally from the Bolton area, I recognised quite a few of the locations in the first few episodes and figured that there's bound to be some die-hard Peter Kay fans out there, surfing t'Internet trying to find out where those locations are.
Using the most advanced technology (i.e. a camera and a telly) I've done my best to show you the locations that I recognise.
P.S. I don't want to spoil things for you, but I wonder why www.freemaxandpaddy.com appears on the back of the offical Max & Paddy T-shirts and has been registered by the production company. Maybe they get locked up at the end of the series and we'll have another "Deidre Rachid" campaign on our hands...
P.P.S. All is clear after seeing Episode 4. Shame they don't put the URL to good use though...